PUT US TO WORK FOR YOU
Our experienced injury lawyers are ready to fight for you and get you what you deserve. We've won over $2 Billion for our clients since 1986. You don't pay us anything unless we win.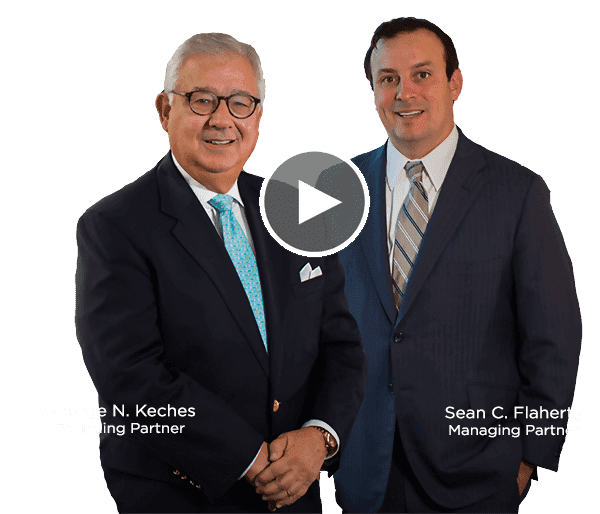 WE GET RESULTS
With over $2 Billion and counting, the injury attorneys at Keches Law Group have a strong track record of getting favorable verdicts & settlements for their clients.
Recent Verdicts:
$26,600,000
Trial verdict for an injured union mason working on the Longfellow Bridge.
$5,000,000
Verdict for a 4 year old who nearly drowned at a day camp due to a delayed reaction by camp lifeguards.
$9,500,000
Trial verdict for a teacher killed by a motorist while crossing a crosswalk.
WE ARE ATTORNEYS THAT CARE
Keches Law Group is made up of 50 experienced attorneys and over 100 highly-trained team members who truly care about your well-being and financial future.  We will work tirelessly to get you the results you deserve.
"Talk about outstanding, caring, compassionate, it gets no better. The entire law group is the best in New England."
– Faith
★ ★ ★ ★ ★
WE ARE ALWAYS NEARBY
With 9 offices across New England, we're always close by when you need us. Can't get to one of our offices? No problem, we'll come to you whenever and wherever it's convenient.
Additional Offices Outside New England:
350 Sentry Parkway, Building 610, Suite 130
Blue Bell, PA 19422
Phone:
215-608-7100
10926 David Taylor Drive, Suite 120
Charlotte, NC 28262
Phone:
704-774-8898
*By appointment only.
WHAT WE DO
Keches Law Group has over 30 years of experience in a variety of practice areas and legal services with a particular focus on those who have been injured by the actions of someone else. We pay special attention to your unique situation and we pride ourselves on delivering personalized service resulting in the best possible outcome for you. Browse our practice areas to learn more about how our team can help you. We are a contingency fee law firm which means there's no cost to you to pursue your case – we only get paid if you win your case.
Supporting Unions
For over thirty years, the attorneys at Keches Law Group have been supporting organized labor and fighting for union members who have been injured on the job. Ironworkers, nurses, plumbers, electricians and hundreds of other hard-working laborers have trusted us to get the job done for good reason: we know first-hand what it's like to be hurt on the job. Our managing partner, Sean Flaherty, was a 3rd generation Local 7 ironworker who suffered a work injury in 2000 that propelled him into his career in law due to the injustices he experienced.